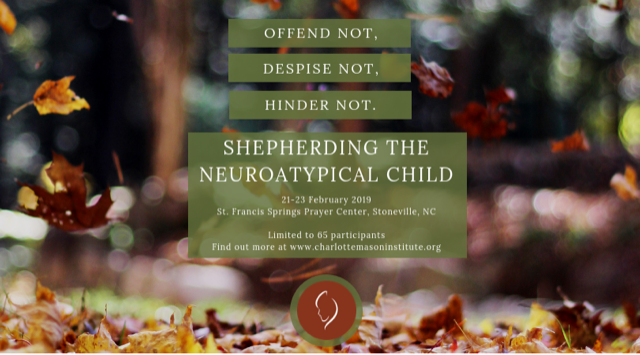 OFFEND NOT: ONE FAMILY'S STORY – Danielle Merrit-Sunseri
"Take heed that ye offend not – despise not – hinder not – one of these little ones."  It was meditation on these words that brought us to this retreat. From memories of a neuroatypical childhood to realizations as a parent and educator, Danielle will share some personal stories and perspectives on Mason's words, and she will offer encouragement for the next great paradigm shift that we must make as a community.
IS CHARLOTTE MASON TO BE A MARBELIZED VICTORIAN STATUE? – Carroll Smith, EdD
One hundred thirty-four years ago people gathered at a church in Bradford, England to hear Mason lecture on education. Many of her educational ideas—the personhood of the child, the use of language and others—have become an educational bedrock for many and are just as valid in 2018 as they were in 1886. But as time has passed, has recent research given us new ideas to which we must pay attention, if we are to are to honor the personhood of the child? I believe there are, especially for the neuroatypical child. We are required by Mason to pay attention to these. She says, "If parents take no heed of great thoughts which move their age, they cannot expect to retain influence over the minds of their children. If they fear and distrust the revelations of science, they introduce an element of distrust and discord into their children's lives. If, with the mere neophyte of science, they rush to the conclusion that the last revelation is final, accounts for all that is in man, and, to say the least, makes God unnecessary and unknowable, or negligible, they may lower the level of their children's living to that struggle for existence—without aspiration, consecration, and sacrifice—of which we hear so much" (School Education, p. 157). In this session Carroll Smith will discuss those principles of Mason that are necessary and good for all time. Next, he will provide a framework for engaging with current ideas and current research and how to apply the framework to Mason's theories and practices. This will help us not ignore the ideas and thoughts of our day and thus fall victim to losing the influence we need with our children in a constantly changing world.
STEWARDSHIP AND THE NEUROLOGY OF SELF REGULATION – Andy Smith
Foremost to Mason was the development of a child's self agency
; she designed
"this way of learning"
so the child could make "use of the authority which is in him in its highest function as a self-commanding, self-compelling power" (Mason, Vol 6, p. 77). 
What she penned in the 188Os, "The problem before the educator is to give the child control over his own nature," (Mason, Vol 1, p. 103) still resonates with us in 2018. Many find the responsibility of helping the neuroatypical child gain self-control to be a perplexing, frustrating, and weighty task, e
ven within the feast of Mason's paradigm. Are these difficulties with self-control simply a matter of poor habit training and moral deficiencies? Common thought at the turn of the 20
th
century said yes. However, current research from the advances in neuro-investigative technologies, has opened new frontiers of knowledge: understanding the neurology of self-regulation illuminates why self-commanding powers seem illusive for some children. Just as the intersection of education and physiology was foundational to Mason (she lectured on Education and Human Physiology as a teacher trainer, wrote Home Education whose "particular object . . .  is to show the bearing of  physiology of habit upon education.,") so the intersection of education and neuro-physiology is foundational today. Stewardship and the Neurology of Self-regulation will address the neurological underpinnings of self control so that as adults working with neuroatypical children, we can shift from the role of obedience enforcers to stewardship problem solvers with the freedom to adapt some of Mason's methods so we offend not, despise not, and hinder not neuro-atypical children.
POSSIBLE ADAPTATIONS FOR THE NEUROATYPICAL CHILD – Carroll and Andy Smith
Mason said, "Attention, assimilation, narration, retention, reproduction" are the "mind forces [that] must act continuously in education," if a child is to take "in 'mind stuff' which will come into use in a thousand ways perhaps as long as he lives." But the neurodevelopmental profiles of some children interfere with efficient use of these mind forces. For neuroatypical kids, issues such as emotional dysregulation, attention deficits, and sensory processing and integration–all things unknown in Mason's day–create difficulties for doing tasks such as following instructions, switching mental sets or tasks, attentional listening, reading and engaging with deeper meanings of a text, keeping in mind what they need to narrate, doing written narrations that reflect what they know, writing compositions, solving word problems in math. How can we adapt Mason's methods so neuroatypical children can access the feast for the mind stuff they need? Informed by current research in neuropsychology, Carroll and Andy Smith will suggest and demonstrate some possible adaptations to use with oral and written narrations, dictation, composition, math, geography, picture study and give core strategies that support children with learning and attentional challenges (Mason, Vol 6, p. 259).
NAVIGATING COMMON FAMILY CHALLENGES – David Wiggins, PhD
"How do I manage when one of my children requires such a disproportionate amount of my time and energy that little is left for my other kids?" "How do I manage exhaustion when one child seems to drain all my energy?" Parents of neuroatypical children can struggle with questions like this frequently. David Wiggins will share some practical tools and insights informed by research to help parents navigate such challenges and avoid the pitfalls of "underfunctioning" and "overfunctioning." While he cannot violate professional boundaries as a clinician by addressing individual needs in this group setting, Dave will address questions of specific concern and invites attendees to submit questions ahead of time via the registration form.
FOSTERING RELATIONSHIP, COMMUNICATION, AND PROBLEM SOLVING WITH MY CHILD – David Wiggins, PhD
After a brief lecture David Wiggins will facilitate a group discussion about how to relate and talk with your child in ways that foster great relationship, communication and problem solving.
APPETITE FOR KNOWLEDGE – Danielle Merritt-Sunseri
Mason referred to curiosity as our appetite for knowledge. She said it is one of only three considerations when developing a program. Neuroatypical children are especially impacted by curiosity, but some careful consideration in this area can improve their appetite and can be profoundly life-giving. Danielle will present a big-picture view of science education from Mason's programmes and will discuss how we might translate this for the neuroatypical child. Danielle will offer a curricular plan that you can use in your Mason schoolroom.
USING (SIMPLE) RESEARCH ACTIVITIES TO TEACH SCIENCE – Edward P. Zovinka, Ph.D. Professor of Chemistry, Saint Francis University (PA)
For many years, teaching students meant a professor at the front of their classroom, simply talking.  Tradition dictated that the students learn a number of techniques, often one technique after another. Unfortunately, the experiments were disconnected and the students did not learn why the techniques were important until much later in the educational process, leading to loss of interest by many students.  The question becomes, how to invite curiosity?
Starting in the 1980's, undergraduate research became a tool to spark curiosity.  Since that time, educators have pushed the research experience ever earlier.  Through research experiences, the learner can be engaged in a discovery project, either partly designed by the instructor or designed by the learner (with guidance).  By providing the learner with "ownership" of the learning, their natural curiosity can take over and techniques and methods can be integrated during the discovery process.
During our session, we will engage in some discovery learning designed for K-12 students, using supermarket items to examine the scientific method and collect data.
Activities include:
Diaper chemistry
Making Slime (change amount of borax compared to change in properties)
Using Pennies to study surface tension (pennies & soap)
Using Lightsticks & Alka seltzer tablets to study reactivity
DANIELLE MERRIT-SUNSERI
Danielle was first exposed to several of Mason's principles through the guidance of many gifted science teachers and professors (even though they didn't know who Mason was!).  Danielle graduated with a B.S. Chemistry from Saint Francis University in 2000 and an M.S. Chemistry from the Pennsylvania State University in 2003. After doing pharmaceutical research for a number of years, she decided to spend some time at home with her children.  When she and her husband, Jay, began looking for an educational alternative for their children, she stumbled upon Home Education. The text immediately resonated and it was a natural switch from research chemist to Charlotte Mason educator. She and Jay have established their school on a little homestead in North Carolina. When she isn't raising food or learning alongside the children, she can be found researching neuro-atypical development or family genealogy. 
ANDY SMITH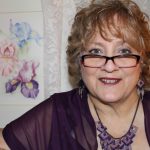 Over the decades, Andy's work outside the home has included teaching English as a Second Language to adults, training children and adults with vision problems to get around their communities, planning CM conferences, and helping with curriculum. Her work with visually impaired students from preschool to high school took her into regular and special ed classrooms in 20 or more school divisions in three states. Seeing so many kids disengaged and bored with worksheets, she would come home and groan to husband Carroll about how much an educational revolution was needed. She is so thankful the ideas and methods of Charlotte Mason are gaining wider acceptance and practice.During her children's younger years, Andy tried to homeschool her two children with CM methods but, to her overwhelming disappointment, found that "air traffic controlling" all those layers were beyond her personal limits.  At the time, she did not understand her attention deficit issues, and she knows how dealing with executive function deficits can be mistakenly attributed to moral failure. When she started exploring attention issues, she did not fit the typical ADD profile generally understood at that time,  and she was told by a special education teacher, "You can't be ADD because you have a master's degree."  So she began self-educating by reading everything she could find on ADD. In her forties, God brought her insightful, competent people who understood attention deficit disorder and helped her make radical, life-nourishing changes.  Introduced to a relationship with Christ in college, Andy is grateful to God for the tremendous stability and blessing that walking with Christ has brought to all of life. In learning to steward the neurochemistry she has been given, Andy is also grateful to God for the added blessings that understanding and applying executive function strategies bring.
CARROLL SMITH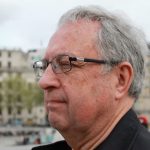 Dr. Carroll Smith was introduced to Charlotte Mason many years ago through Mason's book An Essay Towards a Philosophy of Education.  From there the seeds of ideas given by Mason in her various books have slowly taken hold and have grown year by year as Carroll worked as a middle school teacher, a principal and a college professor.  He founded the educational nonprofit, The Charlotte Mason Institute, to promote the educational philosophy of Charlotte Mason and cherishes the relationships that have gown over the years through a collective camaraderie with people interested in seeing education from a very different paradigm.  He enjoys reading, gardening and discussing ideas with friends.  He and his wife, Andra live in Roanoke, VA.
DAVID WIGGINS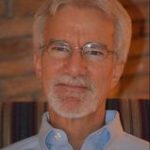 David R. Wiggins, PhD, is a Licensed Professional Counselor in private practice in Roanoke, VA.  He received his PhD in Counselor Education and Supervision from Virginia Tech in 1995, an EdS degree in Counseling from the University of Virginia in 1988 and a MEd degree in Counseling from James Madison University in 1984.
Dr. Wiggins has worked in the human services field since 1978.  He worked as an individual, marital and group counselor at Woodrow Wilson Rehabilitation Center for seven years before pursuing his doctorate.  He also served as the director and family counselor for a hospital-based rehabilitation program.  For over ten years he was the Director of Counseling and Associate Dean for Student Services at Jefferson College of Health Science.  He taught undergraduate and graduate courses in psychology and counseling.  He has completed internships at the University of Virginia, Virginia Tech, C.O.V.E.R. (Community Outreach to Vietnam Era Returnees), Lewis Gale E.A.P. (Employee Assistance Program), and West Virginia Graduate College.
Dr. Wiggins utilizes short-term, practical skills based approach to treating many issues including:  attention-deficit disorder, depression, life stressors, anger management, anxiety and other mood disorders, aging issues, disability and medical issues, workplace stress, conflict mediation, mindfulness training, parenting issues, college adjustment issues, stress management and personality testing.
While Dr. Wiggins helps clients with many issues, four primary areas of interest and training include:  marital/relationship issues, medical illnesses, adjustment/stress management issues and mindfulness training.
EDWARD P. ZOVINKA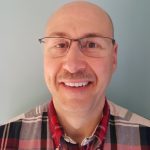 Edward graduated from Roanoke College with a BS in chemistry in 1987 and earned a PhD in Chemistry from the University at California – Davis in 1992.  After postdoctoral research at NC State University, he joined the chemistry department at Saint Francis University (SFU).
Since coming to SFU in 1994, he has advised over 35 undergraduate students leading to over 40 presentations at local, regional, and national scientific meetings.  Edward and his students have authored 31 publications spanning journals from the Journal of the American Chemical Society to The Chemical Educator.
He is strongly committed to improving science education. For over 22 years, he has directed the Rural Outreach Chemistry for Kids (R.O.C.K.) program that annually reaches over 5,000 K-12 students in the Central/Western PA region through over 230+ classroom visits.  In cooperation with teachers and student leaders, a hands-on event is planned from a menu of activities. During an event, SFU R.O.C.K. leaders with the help of SFU students lead the K-12 students through an activity designed to enhance the scientific method of discovery.
Edward's awards include being named a Pennsylvania Professor of the Year by the Council for Advancement and Support of Education, and the J. Kevin Scanlon Award for the Promotion of Science by the Spectroscopy Society of Pittsburgh. He was honored by the Carnegie Science Center Awards for Excellence in the University/Post-secondary Educator category, awarded the Saint Francis University Student Government Association Outstanding Educator Award from SFU students and SFU Swatsworth Award winner by the faculty. He has been an active member of SSP serving as chair of numerous committees, serves on the Hollidaysburg Area School District Parent Leadership Committee, serves on the Board of Directors for "A Quaint Corner Children's Museum & Discovery Center," and is the Troop Committee Chairman for BSA Troop 3032.
Offend Not is hosted at St. Francis Springs Prayer Center's facilities. Located on beautiful wooded grounds, the center features cottages and a lodge, brookside trails, quiet nooks, and relaxing communal gathering places. Food is cooked by the staff at SFPC, and meals from dinner on Thursday through lunch on Saturday are included in the conference cost (registration is not available without meals). Be sure to let us know on the registration form if you have any special dietary needs. The staff at SFPC will try to accommodate any requests.
We are offering options for single, double, and triple occupancy rooms in Cottages and the Main Building at SFPC. Triple rooms have three queen, full or twins sized beds, and double rooms have two. Every room has its own private bathroom and scenic view.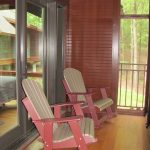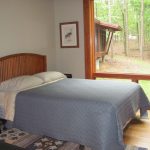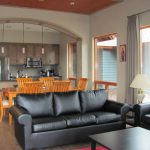 Special Married Couple Scholarship and Housing
For couples attending the conference a generous donor has offered up to twelve couples a scholarship discount of $65.
A limited number of private Hermitages are also available to couples attending Offend Not. The Hermitages feature a complete kitchen, living room, dining area, bedroom/bath, and patio.
Special Last Month Registration and Meal Plan Option for off-site lodgers! 
Registration Deadline: February 1, 2019
(new registrants only)
Registration $199.95
Spousal Registration $129.95
Meals Options
Plan 1 – Breakfast, Lunch, Dinner for one person (Thursday dinner through Saturday lunch) – $100.00
Plan 2 – Lunch and Dinner for one person (Thursday dinner through Saturday lunch with NO breakfasts) – $80.00
Regular Registration 
12 Spousal Registrations
$184.95 $164.96
$184.95 $99.95
Lodging and Meals (included together) in a cottage or the main lodge
Single Room with meals $149.95 per person per night
Double or Triple Room with meals $99.95 per person per night
Married Couple Hermitage Housing with meals $119.95 per person per night
Running any retreat or conference these days can become expensive. Just the insurance is getting increasingly costly. We have sought to keep expenses as low as possible and yet, chose a location that is peaceful and serene. To assist with expenses we have a donor who has given $20 per registrant in order to reduce the registration costs from $184.95 to $164.95. To assist some couples who would like to attend together, we have scholarship-registrations at $99.95 for 12 spouses who attend with a registered spouse paying the regular registration price. These will be given on a first come, first served basis. These scholarships are not offered to a spouse who wishes to attend alone. They will be given only to a spouse who wishes to attend with a spouse who is paying regular registration costs.