LEARN MORE
Take a Peek at these Samples of Exclusive Alveary Membership Resources.
Charlotte Mason's Alveary 2020-21
The 2020-21 Program contains the full book list, links to purchase your books, prices, links to free resources, course descriptions, placement tips, discount codes, and the page breakdowns/scope of study for the year by term. We also provide a concise book list which is perfect for printing and taking with you to book sales, the library, or your favorite used book store.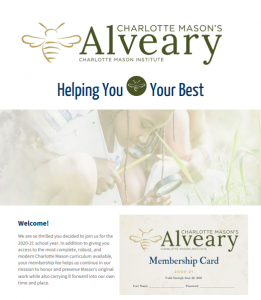 This handy one-stop document has well-organized direct links to everything you need to get started. 
Sample Coming
Program and Booklist
Samples Coming
Lesson Plans
Note: lesson plans for 2020-21 will be released July 1st. Although the format for is changing slightly this year to streamline and simplify the layout (Math History is in the new format for Forms 1-3), these lessons are all representative of the Alveary.
Teacher Training and Support
From our welcome kit to our knowledge base and practical scheduling helps, we want to equip you to educate your students well.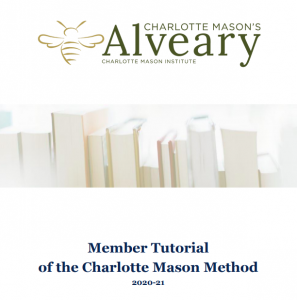 A 77-page practical guide on how to do each of Mason's methods for every single subject. Also includes a bird's-eye view of how subjects progress through the forms. 
Guide to Effective Planning and Implementation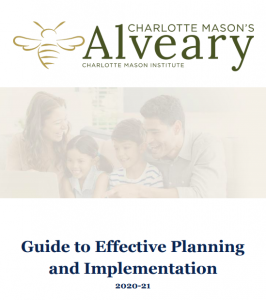 Our Guide to Effective Planning and Implementation helps you figure out all the details, such as creating your school calendar and schedule, placing and combining students, gathering and organizing all your materials, and navigating Alveary resources. It also includes our Soft Launch guide, which shows you how you can plan to incorporate subjects over a span of two years as an 'on-ramp' to the full Charlotte Mason feast.
Sample
Knowledge Base
Our knowledge base contains over 40 recordings of past Alveary webinars, curated collections of past CMI conference lectures and Parents' Review articles, blog posts, and outside resources, all organized by topic.
Community
The Hive (our online platform) & The Buzz (our weekly newsletter)
Click to view
Charlotte Mason's Alveary 2020-21

The 2020-21 Program contains the full book list, links to purchase your books, prices, links to free resources, course descriptions, placement tips, discount codes, and the page breakdowns/scope of study for the year by term. We also provide a concise book list which is perfect for printing and taking with you to book sales, the library, or your favorite used book store.

This handy one-stop document has well-organized direct links to everything you need to get started. 

Sample Coming

Program and Booklist

Samples Coming

Lesson Plans

Note: lesson plans for 2020-21 will be released July 1st. Although the format for is changing slightly this year to streamline and simplify the layout (Math History is in the new format for Forms 1-3), these lessons are all representative of the Alveary.

Teacher Training and Support

From our welcome kit to our knowledge base and practical scheduling helps, we want to equip you to educate your students well.

A 77-page practical guide on how to do each of Mason's methods for every single subject. Also includes a bird's-eye view of how subjects progress through the forms. 

Guide to Effective Planning and Implementation

Our Guide to Effective Planning and Implementation helps you figure out all the details, such as creating your school calendar and schedule, placing and combining students, gathering and organizing all your materials, and navigating Alveary resources. It also includes our Soft Launch guide, which shows you how you can plan to incorporate subjects over a span of two years as an 'on-ramp' to the full Charlotte Mason feast.

Sample

Knowledge Base

Our knowledge base contains over 40 recordings of past Alveary webinars, curated collections of past CMI conference lectures and Parents' Review articles, blog posts, and outside resources, all organized by topic.

Community

The Hive (our online platform) & The Buzz (our weekly newsletter)

Click to view